PERFORMANCE of High Head Slurry Pump
D: 20-150mm
Q: 10-1000m3/h
H: 15 -100m
KTHH HIGH HEAD SLURRY PUMP
The High Head Slurry Pump is a cantilever and centrifugal pump. The double pump casing structure is used in horizontal and vertical axis, and the inner lining is hard alloy with good wear resistance, corrosion resistance and high reliability. The product is reasonable in structure, reliable in operation and long in-service life. It is especially suitable for middle and high concentration, strong abrasion and high lift.
KTHH HIGH HEAD SLURRY PUMP APPLICATION
High head high-pressure slurry pump widely used for wet crushers, SAG mill discharge, ball mill discharge, rod mill discharge, Ni acid slurry, Coarse sand, Coarse tailings, phosphate matrix, minerals concentrate, rich media, dredging, bottom/fly ash, lime grinding, oil sands, mineral sands, fine tailings, phosphoric acid, coal, flotation, sugar beets, process chemical, pulp and paper, FGD, wastewater, etc.
KTHH High Head Slurry Pump is widely used to transport corrosive and abrasive, and high concentration slurries in mining, sand, lead, and other industries, including electric utilities, copper, oil shale, agriculture, etc. KTHH High Head Slurry Pump is equivalent to the world's standard HH series slurry pumps.
KTHH HIGH HEAD SLURRY PUMP FEATURE
1. Ductile iron fully lined casing provides durability, strength, and long service life.
2. Multi-stage high-pressure operation to 750 psi.
3. Heavy-duty construction with a through-bolt design provides ease of maintenance and minimal downtime.
4. Large diameter, slow turning, high-efficiency impellers designed to achieve maximum wear life and low operating costs.
5. Large, open internal passages designed to maximize wear life and lower operating costs.
6. Thick elastomer and alloy liners provide superior corrosion resistance and maximum wear life.
7. Full flush gland, low flow, and dry running centrifugal seals reduce flush water usage minimizing pump operating costs.
You can click here to contact us for more product parameters and details.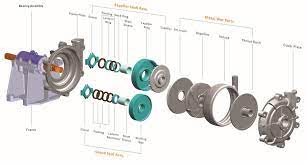 Design Features of High Head Slurry Pump
Mechanical Seal:
Different types of mechanical seals are easily available to replace the packed gland shaft seal easily. These seals are available in a variety of materials. Also, the adaptor plates can be easily fitted to fulfil mechanical seals requirements.
Shaft Sealing Options:
High head slurry pumps are fitted with gland type shaft seals, pump product lubrication and PTFE packing. Also, where product lubrication is not applicable, the external clean water lubrication can be used.
100% Interchangeable Parts:
With high head slurry pumps, one can use the high-quality spare parts in existing pumps. This enhances service life and performance. On top of that, the spare parts are completely interchangeable with typical slurry pump design.
Wear Resistant Expeller:
The wear-resistant expeller reduces recirculation to increase seal life and reduces seal face pressure.
Horizontal Slurry Pump VS Vertical Slurry Pump
Why Do I Need A Slurry Pump?
What Do You Need to Consider before Buying Slurry Pumps?
How to Buy Anti-corrosive Centrifugal Pumps?
What Are the Types of Slurry Pumps?