Heavy Duty Slurry Pump Manufacturer

Performance
D: 20-650mm
Q: 10-9100m3/h
H: 4-120m
Pump Type: Centrifugal
Pump Materials: AISI316L, Duplex Stainless Steel, Bronze, Cast Iron, Ductile Iron, Duplex, EPDM, NBR
Drive: AC Electric, Engine, Bareshaft
Type KTH pumps are cantilevered, horizontal, centrifugal slurry pumps. They are a rubber-lined heavy duty slurry pump designed to accommodate large quantities of abrasive and soft solids with fibrous particles at high flows. They are designed to handle abrasive, high-density slurries in metallurgical, mining, coal, power, building material, other industrial departments, etc. The pumps of this type may also be installed in multistage series.
Application
Typically used in the mining, paper, construction and agriculture industry, units are designed to handle liquids ranging from manure, or waste animal products at high volume to chemical slurries, mud, lime, fly ash, gravel and mineral products. Applications range from transfer to filter press feed and hydro blasting/vapour blasting.
Configure
The heavy duty slurry pump is manufactured utilising oversized bearings of heavy-duty design. Bearings can be grease or oil lubricated. Designs are available in various rubbers and metals to accommodate all slurry types and can be directly motor-driven or belt-driven, depending on the application.
The frame plates for type KTH The heavy duty slurry pump such as interchangeable, rigid metal or pressure rubber liners the impellers are made of hard metal or pressure moulded rubber liners.
The shaft seals for type KTH The heavy duty slurry pump can be packing seal, centrifugal seal or mechanical seal. The branch can be positioned at discharge intervals of 45 degrees by request and oriented to eight positions to suit installations and applications.
The inner volute is rubber lined to reduce the unit's speed, and the impeller is rubber-coated, ensuring longevity.
This slurry pump design has both front and rear adjustment enabling internal clearances to be adjusted as liners wear. Tolerances are adjusted via external bolts without the need to dismantle the volute.
If you want to learn more details, contact us for free please.
Units can be configured with a choice of 4 Impeller types:
Standard Impeller
: Suitable for small and medium solid particles, this design is the most efficient, producing the highest heads.
Semi-Open Impeller
: Large and medium solid particles are transferred via the semi-open impeller type providing high efficiency with more considerable solid handling. This impeller type is utilised for low and medium heads.
Vortex Impeller
: Utilised to transfer large concentrations of sizeable solids at low head. Due to the impeller being of vortex design, there is less area in contact with the fluid and are consequently less efficient. They are necessary for the non-clog pumping of abrasive solid laden fluids.
Recessed Vortex Impeller: This design is used when large, solid and fibrous particles are present within a fluid. Minimum contact is accomplished between the solid particles within the fluid and the impeller. These impeller types are preferred to avoid damage or clogging to the impeller.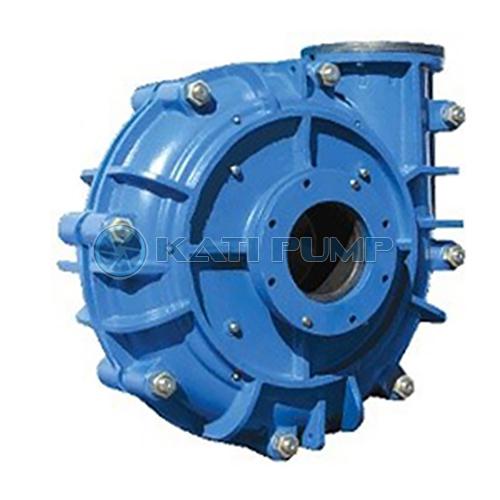 Available Shaft Sealing Options:
Packed Gland
: Sealing system cooled by pumped liquid or external cooling fluid.
Expeller Seal & Gland Packed: Sealing system cooled by pumped liquid or external cooling fluid. The expeller seal creates a hydrodynamic seal by creating an area of low pressure around the shaft. Expeller seals improve shaft sleeve lifetime and minimise water use. This combination ensures at low RPMs, and when the pump is stopped, the unit does not leak.
Cartridge Type Single Mechanical Seal: A cartridge type single mechanical seal, with lubrication provided by the pumped fluid or pressurised external fluid according to an API682, Approved Plan.
Cartridge Type Double Mechanical Seal: A cartridge type double mechanical seal, with lubrication provided by the pumped fluid or pressurised external fluid according to an API682, Approved Plan.
There are 5 Possible Installation orientation Types:
1
.
Motor mounted above pump with shafts in vertical alignment with the unit belt driven
2
.
Motor mounted above and behind pump and belt-driven
3
.
Motor and Pump mounted adjacent, with pump head on the right and motor belt driven
4. Motor and Pump mounted adjacent, with pump head on the left and motor belt driven
5
.
Pump and motor mounted on standard baseplate directly coupled.
FAQS
Which pump is used for a thick slurry?
Centrifugal Pump. The most common type of slurry pump is the centrifugal pump. These pumps use a rotating impeller to move the slurry, similar to how a water-like liquid moves through a standard centrifugal pump.
What is the best sludge pump? Which Positive Displacement Pump Is Best For Wastewater Sludge?
Centrifugal pumps are suitable for low viscosity sludge with microscopic solids.
Progressive cavity pumps are great for sludge.
Rotary lobe pumps are great for high viscosity fluids.
What is a centrifugal slurry pump?
A centrifugal slurry pump, in basic terms, is a type of pump. Their design allows them to pump liquid that contains solid particles. Additionally, the concentration, size, shape, and composition of solids in a slurry may affect the design. You can use a centrifugal pump for slurry.
How do I choose a slurry pump?
Based on the abrasive nature of slurries, it is essential to choose a pump size that will allow for the pump to run at a slow enough speed to lengthen the duration of the slurry pump's life. An ideal RPM to run a slurry pump is between 900-1200 RPM. If you have any questions, please feel free to
contact us
, we will provide you with the most professional consulting services in the shortest possible time.
Horizontal Slurry Pump VS Vertical Slurry Pump
Why Do I Need A Slurry Pump?
What Do You Need to Consider before Buying Slurry Pumps?
How to Buy Anti-corrosive Centrifugal Pumps?
What Are the Types of Slurry Pumps?